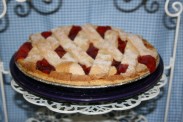 HOLIDAY CATERING AND BAKERY ORDERS
With Crusts Made From Scratch
HOLIDAY CATERING AND BAKERY ORDERS
Let The American Pie Company Do Your Holiday Cooking and Baking! Just give us a call, order your pies, cakes, breads and cookies and pick them up at your convenience!
ORDERS
Catering, Holiday Orders and Bakery Special Orders may be phoned in 2 days prior.
Please call ahead to order and prepay for your Thanksgiving Baked goods and Catering.
860-350-0662 View Holiday Catering and Bakery Order Menus
PICKUP
Orders will be picked up curbside at our outside tent. Pick up 10 am and after on the day before the holiday.
Store Closed on Christmas Day, Thanksgiving and Easter.
HOLIDAY CATERING MENUS
HOLIDAY MEAL DEAL
Sliced Turkey (all white meat) OR Honey Glazed Ham;

Mashed Potatoes
Stuffing
Cranberry Sauce
Gravy
Broccoli Au Gratin
Fresh Baked Bread
10" Apple or Pumpkin Pie

Ready to heat.